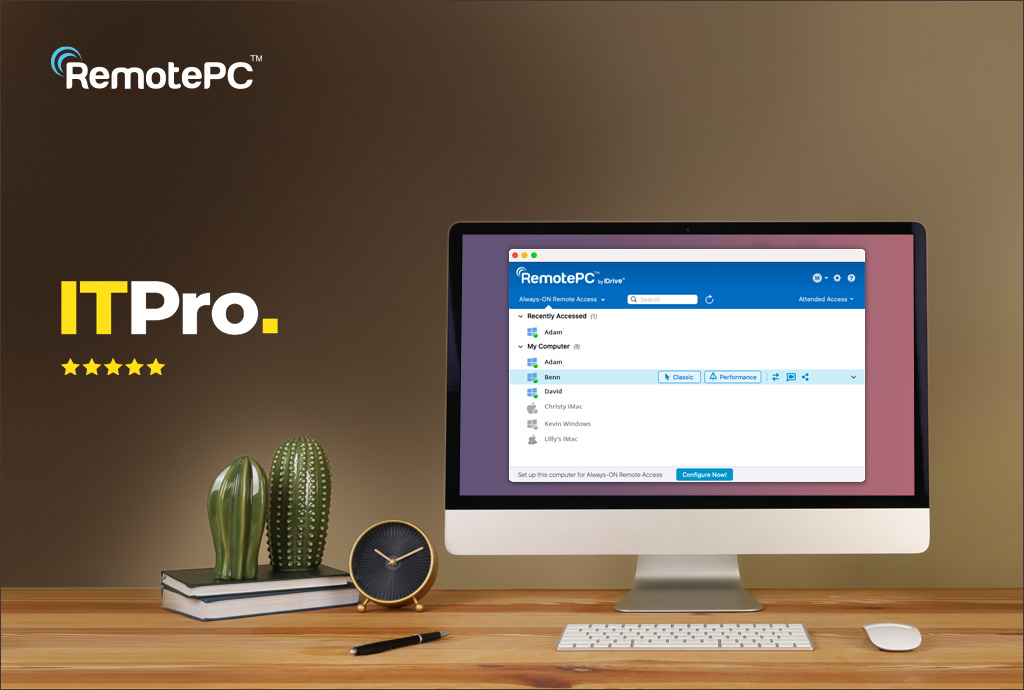 An affordable remote access solution is a great way for organizations, from small businesses to large enterprises, to be sure that their employees can remain productive no matter where they are working from. RemotePC provides this flexibility with the ability to access your office computer and network with no disruptions, making it simple for employees to work as efficiently as they would be in office.
ITPro recently conducted a review of RemotePC's Team plan, which supports unlimited users and access to 50 computers for $299.50/year, more affordable than most competitors without sacrificing features or functionality.
RemotePC Team allows admins to create unlimited users and add them into groups via a central management web portal, making it easy to keep track of users and keep them organized. During this process, users have many options including enabling the devices to be set for "Always-on Remote Access," which can be protected with a personal code for enhanced security.
Security is one of the most important aspects of remote access, so RemotePC gives users the option of protecting their sessions with a personal key. The "Trusted Devices" option helps to enhance security by triggering an email to the account holder when there is any attempt to connect from a new location. Also, no matter what type of connection you use, all communications between the host and remote computers are AES-256 encrypted.
More features of RemotePC Team include:
Organize users into groups
Web viewer – users/technicians can start a session via web browser, which provides remote control, file transfer, text and video chat, and whiteboard services.
Desktop Application – adds extra tools for drag-and-drop file copies, remote printing, audio, and session recording.
Performance Viewer – connects to Windows and macOS hosts at up to 60fps, with additional support for multiple monitors.
Mobile applications – users can control their remote computers from anywhere, load a virtual keyboard, use mouse or touch interaction, and also fire up attended access support sessions through their mobile devices.
HelpDesk – support departments can provide fast and simple remote support by establishing ad-hoc remote sessions at request for quick fixes.
The final verdict from ITPro:
"IDrive's RemotePC Team will appeal to SMBs that want affordable cloud-hosted remote support for their offices and home workers. It's exceedingly simple to deploy, easy to manage, and delivers tough access security measures."